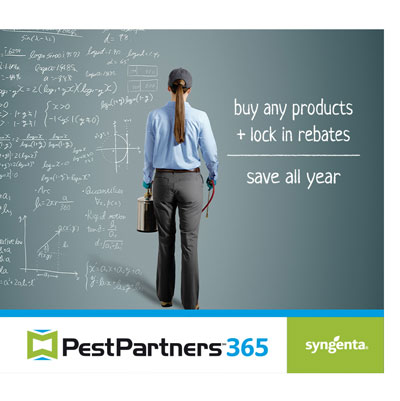 Greensboro, N.C.-based Syngenta announces its 2021 PestPartners 365 year-long rebate program. To become a member regardless of company size, pest management professionals (PMPs) simply need to purchase any combination of Syngenta pest management products to generate at least $200 in base rebates during the qualification period (Oct. 1, 2020, to April 30, 2021). Once qualified, PMPs will receive rebates on all Syngenta products purchased from Oct. 1, 2020, to Sept. 30, 2021 — no forms required. Qualifying Syngenta PMP products for ants, cockroaches, termites and other pests include the Advion, Demon, Optigard and Talon lines, as well as Altriset, Archer and Tandem.
New this year is the ability for PMPs to view their rebates online. Once qualified, companies can check their current rebate level, estimated rebates and more by logging into their SyngentaPMP.com account.
"As the first rewards program of its kind in the industry, we're continually innovating PestPartners 365 with new offerings that make it easier to save," Marshall Gaster, market manager for Professional Pest Management at Syngenta, said in a news release. "We're excited that our new rebate tool will help PMPs easily view and plan their rebates for the year ahead."
Other program benefits include the ability to:
• Help manage cash flow by deferring payment on select products until June 25, 2021, with SummerPay terms.
• Estimate rebate savings with the online rebate calculator.
• Download sample purchase orders that outline simple ways to become a member at the introductory partner level.
Additionally, when PMPs generate at least $500 in base rebates between Oct. 1, 2020, to Dec. 9, 2020, they'll earn a special one-time Early Order Bonus rebate.