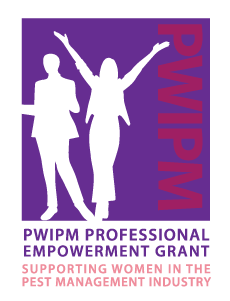 The Professional Women in Pest Management (PWIPM) — the National Pest Management Association's (NPMA's) affiliate group that offers educational programs, networking opportunities and other resources to support women in the pest management industry — is accepting applications for its Professional Empowerment Grant. The deadline for entries is July 31, 2020.
Grant recipients will receive a minimum of $1,000 that may be used to defer costs related to advancing their careers or furthering their pest management education, free registration for the NPMA's PestWorld, and $1,000 to be spent on travel expenses.
Beginning this year, the PWIPM Council will be offering a grant in honor of Deni Naumann, past president of Copesan Services Inc.; past interim president of Terminix Commercial; and strategic advisor/executive consultant for ServiceMaster. Her recent retirement was celebrated at PestWorld 2019 in San Diego, Calif., with more than 200 pest management industry leaders from across the country in attendance. At the event, ServiceMaster announced its partnership with the PWIPM to fund an annual Deni Naumann Women in Pest Management Empowerment Grant.
Applicants must be females who currently work in the pest management industry, have at least two years of pest management industry experience, and subscribe to the PWIPM contact list (to join or verify your subscription, email [email protected]).
To apply for the grant, applicants must submit:
A resume outlining their pest management work experience.
A 500- to 1,500-word essay addressing the five points below.
An itemized budget detailing how the $1,000 will be spent to meet career goals.
Two letters of recommendation that include the points below and are signed and sealed by the authors.
In the essay, the applicant must:
Explain her career path.
Share her career goals for the next five years.
Explain the challenges women in the pest management industry face.
Describe how she has used her strengths to overcome one of the challenges she described in 3.
Give an example of how women have helped her in her career.
Letters of recommendation should address the applicant's goals and motivation. Letter writers should answer two questions:
Does the applicant have a strong interest in the pest management industry?
What steps have the applicant taken to prepare/advance her career in the pest management industry?
Grant recipients will be notified in September. They will be required to submit to the PWIPM:
A 150-word anecdote about their experience at PestWorld, due within 30 days after the event.
A description of the benefits of receiving the grant, how they used the grant money, the progress they are making toward their career objectives, and a picture, due within 300 days of receiving the funds.
Women are encouraged to submit their applications via PDF to [email protected] or enclosed in one envelope to Allison Allen, Professional Women in Pest Management, c/o NPMA, 10460 North Street, Fairfax, VA 22030.
Bridget Anderson, Ecolab, and Ashley Sands, Future Services, each received a 2019 PWIPM Professional Empowerment Grant at PestWorld. Learn more about previous winners.
In addition to the Professional Empowerment Grant, the PWIPM hosts professional development sessions and networking events at NPMA events, including Legislative Day, Academy and PestWorld. Its Women of Excellence Award recognizes a female leader in the pest management industry. In addition, the group raises funds for charitable causes.